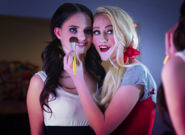 After student Lana Adams answers a bizarre want ad to work for a sugar daddy, she meets the mistress of the house Lyra Law for an interview. Lyra hires Lana on the spot and makes the teen sign a contract transferring ownership of herself to Markus Dupree, the master of the doll house.
Before Markus gets home Lyra and Lana get dressed up like dolls in pigtails and bows, rosy red cheeks and long eyelashes. Lyra explains the rules that Lana has to be a good girl for Markus and follow every command he makes. Both girls obey the master Markus when he gets home. He inspects his new anatomically correct doll, then watches Lyra lick her pussy till she cums.
The fuck dolls then swap places. Markus watches Lana juice up Lyra's pussy with her tongue, getting it ready for Markus to fuck. Markus commands his new doll Lana to watch him fucking his mistress.
Lana looks on hungrily as Markus' cock impales Lyra's pussy all over the sofa. Lyra cums a few times, then the kinky couple fuck each other standing up, and Markus rams her pussy till he shoots his load in front of Lana!