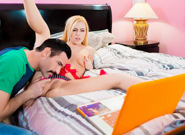 Teen exhibitionist Summer Day is home alone with her stepdad Charles Dera when she decides to start a webcam session. Her parents don't know about her secret job camming online, but Charles finds out when she accidentally leaves her bedroom door ajar. She doesn't notice him walk past her room, but the sight of her putting on lingerie stops him in his tracks.
Charles lurks in her doorway watching her climb onto her bed seductively and undress in front of the webcam on her laptop. When he walks into her bedroom cool as a cucumber, Summer tries to cover up. But it's too late. She's been caught camming. And now, he wants to start the show, together.
She plays along, because the camera is on. She doesn't want to frighten her audience. She mutters under her breath that her mother will see this. But he won't let her weasel her way out of this. Especially not with an excuse like he's her father. Just because he fucks her mother doesn't make him her father. Summer introduces him to her viewers as her favorite friend.
Charles asks the guys watching in the chat room if they'd like to see her take his cock in her mouth. She fellates him, earning praise for her cocksucking abilities. He can tell she likes sucking his cock because he's touching her pussy and it's getting wet.
She lies down on the bed and spreads her legs, he fingers her pussy and makes her lick the juice off his fingers. He takes a deep inhalation of her pussy before stroking it with his powerful tongue and stepdaddy moustache. He inserts his huge erect cock into her pussy and almost splits her in half.
While he's fucking her wet cunt, she concedes her audience might like the show. Charles thinks they would like it even more if she called him daddy. He makes her repeat the words fuck me daddy as he penetrates her. Then he puts her on her hands and knees, and fucks her from behind, using a belt around her throat like a harness. Summer tells her audience that she's daddy's girl. She will do anything to make daddy happy.
She takes a pounding from his cock and cums on it. Charles announces that it's his turn to cum all over her pretty face. She asks her audience if they will tip her extra for that. Knowing he's going to blow, she yells at them to watch with mounting urgency. He pulls out his cock and jizzes on her face!